Existence of Piracy
Piracy had already been a cancerous part of the on-line world. It is so widespread that people see it as normal and generally acceptable kind of action. In fact, 70% of the Internet users find nothing wrong in online piracy. 12.5 billion dollars are incurred in economic losses each year due to piracy in the music industry alone. Truly, this crime damages the society and must be put to an end. However, despite of all the efforts by the US government and online resource proprietors, piracy is still at an increasing pace. Piracy is a crime. In one way or another, violators shall be punished some time sooner or later.
In the perspective of a typical person, paying for something which can be downloaded at the Internet for free is pointless. So they download everything without proper compensation to the owner. This is where Piracy begins. Originally, piracy is defined as the act of attacking and stealing from a ship at sea. It is also an act of robbery on the high seas. However, as time passed by, when people acted like pirates in different ways specially in the Internet, the term online piracy was born. Pirates are thieves. Thieves are criminals; and criminals are to be punished.
Susceptibility of Online Courses
Online courses or more popularly known as e-courses, being on the on-line platform, is as susceptible as any other content in the Internet. Since e-learning administrators wanted to bring the best service possible, various learning resources were made to attend for the intellectual needs of the clients. Particularly, these are audio-visual presentations, reviewers, documents, quizzes and other personalized resource. These are made and uploaded in the e-course in order to produce individuals who are professional and expert in their chosen path. This kind of goal by an institution should at least be a reason for it to be spared in this crime.
Professionalism
A professional is someone respected in his field of work. His actions reflect who he is and what he'd been through. Traces of piracy is not a good record that can deteriorate professionalism. Piracy is very unprofessional. For instance, it does not feel right to hear an engineer stealing a software in the Internet for his clients. It is an act of dishonesty. And a professional who is dishonest is not a professional. If he cannot be genuine in this kind of small things then what can we expect from him in bigger and broader aspects? Perspectives may rise with regard to the commission of this crime. It will affect identity.
Engaging in an on-line course business is well-compensating. It is also a good way to help people in achieving their goals in the field of work. However, securing the resource and educational materials away from illegalities can be hard and challenging. This is mainly because of infamous clients who break the license agreement; using the materials in a manner not prescribed and accepted by the owner. It can be sharing of passwords, illegal download of the materials, streaming, reproducing for their own profit and a lot of unthinkable ways. And the hindrance is that the ways to track and control these illicit activities are limited.
However, there are various ways to somehow increase the security and level up the fight against e-course piracy.
Ways to Combat e-Course Piracy
Block Potential Password Sharing.
In order to do these, users can only access the website once at a time. It is either on a laptop or on a mobile phone but not on both. This will effectively limit the access. It will force the client to not share his account with others so that he will not be on a hard time accessing the site. (Raccoon Gang, 2017)
Technical Programming.
Videos may be encrypted and programmed to be unplayable with licensed video players. Because of this, even if they already downloaded the videos, they will still be not able to play it on an instant. (Raccoon Gang, 2017)
Briefly discuss piracy as a crime at the top of the documents or at the start of the videos.
Piracy is a punishable crime. Laws, acts and bills applicable to the state may be cited. A simple warning may be able to change the minds of the clients towards the normality of piracy. Naturally, people wouldn't want to be associated in any kind of illicit activities. This will instill fear to the clients of the possible punishments they may experience.
Placing appropriate watermarks.
It is a good way of showing copyright. This will hinder illegal redistribution of materials. It can also be a reminder that everything they can access through an e-course is proprietary. Stopping other individuals from claiming ownership is also a good reason to do this. Putting watermarks on quality resource materials is not solely for security but also a way of strengthening reputation and as a marketing strategy.
Ask for information technology professionals' assistance.
There will always be someone who is good in a particular aspect of life. Asking for help can be a good thing for both parties. E-course owners will be able to ask for advice and service from the experts so as to protect the e-course itself.
Personalization of download-enabled materials.
This can applied to documents or review materials. However, it can be tricky as it requires a ton of programming skills. The process is that when the client downloads from the e-course, the system will automatically edit the document. The name of the client, user-name and account number will be placed on the document. It should not be editable so they cannot remove their information. So when piracy is a question, the source of the crime can be easily traced through the data imprinted in the pirated material.
Combat against Piracy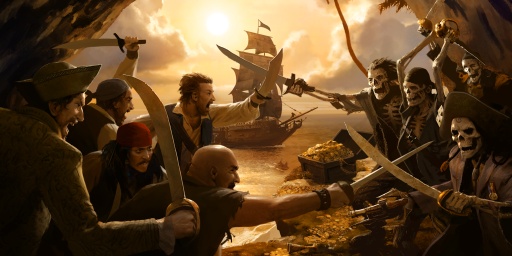 Fighting piracy is a long and bloody war. Beating it with the aforementioned ways may give the e-course owners a sharp edge. After all, building up walls to prevent thieves can help you secure not just the materials but also the life-long investment of e-learning.
Introductory Facts from Go-Gulf.com, Photos from Google.com